03.04.2020 | Ausgabe 6/2020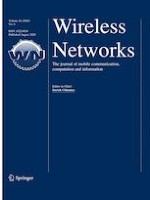 A self learned invasive weed-mixed biogeography based optimization algorithm for RFID network planning
Zeitschrift:
Autoren:

E. G. Zahran, A. A. Arafa, H. I. Saleh, M. I. Dessouky
Wichtige Hinweise
Publisher's Note
Springer Nature remains neutral with regard to jurisdictional claims in published maps and institutional affiliations.
Abstract
The optimal placement of the RFID readers inaugurates an ongoing research field, namely the RFID network planning (RNP). The main issue in the RNP is to know how many readers have to be used and what is their best distribution that guarantees fulfillment of multiple objectives. The common RNP objectives are the optimal coverage, readers' interference avoidance, redundant reader elimination, load balance among deployed readers and minimum power losses, which are considered as conflicting objectives that leads the RNP to be an NP-hard problem need to be solved. The contributions in this paper are: firstly, utilizing both the Biogeography based optimization (BBO) and the Hybrid Invasive Weed-Biogeography based optimization (HIW-BBO) as new algorithms have not used before for solving the RNP. Secondly, we proposed a Self Learning (SL) strategy with a mixed BBO Migration (MBBOM) operation to modify the HIW-BBO algorithm in an algorithm called Self Learned Invasive Weed-Mixed Biogeography based optimization (SLIWMBBO). Thirdly, the performance of the proposed SLIWMBBO algorithm is compared to both the HIW-BBO and the Self Adaptive Cuckoo Search (SACS) optimization algorithms according to a set of 13 benchmark functions. The results of this comparison encourage the application of the SLIWMBBO as an optimization algorithm for solving the complex problems. Lastly, the BBO, HIW-BBO and SLIWMBBO optimization algorithms are used for solving three complex RNP instances and compared to the SACS algorithm. Simulation results of the SLIWMBBO are outstanding and demonstrate its superiority over the compared algorithms.