09.06.2016 | Ausgabe 4/2017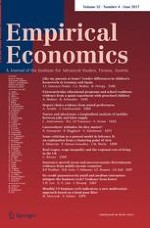 A sequential global Malmquist productivity index: Productivity growth index for unbalanced panel data considering the progressive nature of technology
Zeitschrift:
Autoren:

Yoonhwan Oh, Dong-hyun Oh, Jeong-Dong Lee
Abstract
This study proposes an alternative Malmquist productivity index for measuring productivity growth that can be applied to an unbalanced panel data set by considering the progressive nature of technology. The proposed methodology overcomes the weakness of the conventional Malmquist productivity index, which bears spurious technical change and cannot be applied to unbalanced panel data. To develop the methodology, we integrated the concepts of the sequential production possibility set of Tulkens and Vanden Eeckaut (Eur J Oper Res 80:474–499,
1995
) and of the global frontier of Asmild and Tam (J Prod Anal 27:137–148,
2007
). The suggested index is applied to analyze unbalanced panel data on electric utilities of Korea and the USA between 2001 and 2010. Using the empirical investigation, we show how the suggested index overcomes the fictitious technical regress phenomenon and can be employed for unbalanced panel data.