29.05.2018 | INDUSTRIAL APPLICATION | Ausgabe 5/2018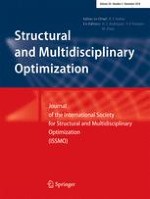 A simplified shape optimization strategy for blended-wing-body underwater gliders
Zeitschrift:
Autoren:

Chengshan Li, Peng Wang, Huachao Dong, Xinjing Wang
Wichtige Hinweise
Publisher's Note
Springer Nature remains neutral with regard to jurisdictional claims in published maps and institutional affiliations.
Abstract
This paper presents a simplified shape optimization (SSO) strategy for blended-wing-body underwater gliders (BWBUGs). In this strategy, the 3-D shape optimization of the BWBUG is approximately simplified into three 2-D airfoil design problems. The three crucial sectional airfoils are firstly selected from the BWBUG and the Class-Shape function Transformation method is used for parameterization of the airfoils. Then, the airfoils are optimized using a kriging-based constrained global optimization (KCGO) method and the optimized BWBUG shape is finally formed with the optimized airfoils. To verify the practicability of the proposed SSO strategy, the shape of the BWBUG is optimized using a direct shape optimization (DSO) strategy as well. Results show that the lift-to-drag ratio of the BWBUG is improved by 4.1728% and 4.4328% with SSO and DSO strategies respectively, which shows that the SSO is comparable with the DSO strategy in the optimization results. However, the CPU time involved in SSO is only about 16% of that in DSO, which illustrates that SSO is an applicable and more efficient strategy for shape design optimization of BWBUGs.