22.08.2019 | Ausgabe 8/2019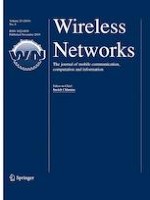 A spatial clustering group division-based OFDMA access protocol for the next generation WLAN
Zeitschrift:
Autoren:

Yong Li, Bo Li, Mao Yang, Zhongjiang Yan
Wichtige Hinweise
Publisher's Note
Springer Nature remains neutral with regard to jurisdictional claims in published maps and institutional affiliations.
Abstract
The next generation wireless local area network (WLAN) needs to significantly improve the area throughput in high-dense deployment scenario. Orthogonal frequency division multiple access (OFDMA), considered as the key technology of the next generation WLAN, has been adopted by IEEE 802.11ax. However, most existing studies have one tricky problem: interference extension problem, i.e., the stations (STAs) placed at dispersive locations from one basic service set (BSS) access channel and transmit data simultaneously through OFDMA, thereby interfering a large area and suppressing the potential transmissions around this BSS. Unfortunately, high-dense deployment scenario exacerbates interference extension problem. This article proposes a spatial clustering group division-based OFDMA (SCGD-OFDMA) protocol, which enables the geographically close STAs to form spatial clustering groups, named SCGs. Each SCG has a leader STA and several member STAs. Each SCG's leader STA contends for channel resources. After that, the leader STAs that successfully contending channel are scheduled by the access point one by one to trigger its member STAs to transmit uplink data by using OFDMA. Therefore, the geographical interference area is reduced and the area throughput is improved since the concurrent STAs in one SCG are located in limited area. This article theoretically analyzes the optimal SCG establishment, and throughput and area throughput of SCGD-OFDMA. Theoretical analysis is consistent with simulation results. The simulation results also show that when the number of STAs is 200 and all resource units are used for random access, SCGD-OFDMA outperforms IEEE 802.11ax and OMAX in area throughput by 56.13% and 190.97%, respectively.