01.10.2019 | Original Article | Ausgabe 20/2019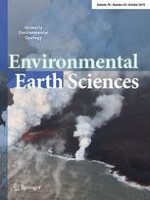 A spatio-temporal variation analysis of Fedchenko and Grumm-Grzhimaylo glacier motion pattern with an efficient pixel-tracking method on spaceborne SAR imagery
Zeitschrift:
Autoren:

Shiyong Yan, Yitong Zheng, Yi Li, Fengkai Lang, Zhixing Ruan
Wichtige Hinweise
Publisher's Note
Springer Nature remains neutral with regard to jurisdictional claims in published maps and institutional affiliations.
Abstract
A comprehensive analysis of glacier dynamic evolution is essential to understand the influence of global climate change at different time scales. In this paper, we derive surface velocity fields of Fedchenko and Grumm-Grzhimaylo glacier during four different periods in 2007–2008 with an efficient pixel-tracking (PT) method on ALOS/PALSAR imagery. The improving PT method operates with an ice region mask file and the execution time is reduced to about only a quarter of original one on experimental data or even less with the same computer configurations. The comparison of ice motion monitoring results yields that ice flow velocity in the middle and lower parts of Fedchenko glacier is generally higher than that in the upper part, with the maximum value of 82.60 cm day−1 in winter. Between winters, respectively, in 2007 and 2008, no pronounced inter-annual variation was found with the average change rate of 2.8%. Besides, the ice flow velocity in the terminus slows down mainly attributing to the impediments of 6.5-km-long glacier debris, while velocity in the spring is significantly faster than that in the winter. And its monthly ice flow velocity increased by 6.5% from February to April and 57.8% from April to May. Besides, the maximum speed of Grumm-Grzhimaylo glacier in winter is 50.91 cm day−1 along with a significant acceleration in spring. Obviously, the long-term observation of spatio-temporal variation in glacier motion with efficient PT method would benefit the studies of glacier dynamics and climate change.