2020 | OriginalPaper | Buchkapitel
A Specimen to Evaluate Susceptibility of Aluminium Alloys to L-S Crack Deviation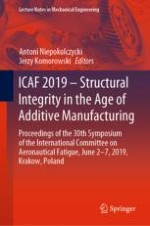 Erstes Kapitel lesen
Autoren: Erembert Nizery, Jean-Christophe Ehrström, Guillaume Delgrange, Bruno Wusyk
Abstract
The current aircraft structures tend to increase the proportion of integral structure parts. One main advantage is the cost, through a reduction of the assembly complexity. The fatigue behaviour of integral structures is also improved due to a reduction in potential initiation sites at joints or rivets, and the stiffness is considered better. The design of new parts requires, however, an analysis of the damage tolerance behaviour (van der Veen et al.
2016
). The present study focuses on the fatigue crack propagation of such structures. Complex parts are commonly machined in aluminium thick plates. Several studies demonstrate that cracks may deviate in unstiffened L-S crack configurations for standard alloys (Joyce et al.
2016
; Sinclair and Gregson
1997
). T-stresses and mixed-mode loads are also affecting the crack deviation behaviour (Llopart et al.
2006
). The L-S CT specimen is shown sufficient to differentiate some variations, e.g. variations between three positions through-thickness. However, the less deviating alloys are difficult to distinguish. A new asymmetric four-stiffener specimen (WEND) geometry is proposed as an alternative test. Experimentally, in order to demonstrate the advantages of the WEND specimen, 7010-T76, 2139-T8 and 2050-T8 plates are characterized. The same alloys are characterized using CT specimens. The WEND specimen is a lab-scale test closer to real structures than a CT test. In its first use, it allows to compare an alloy behaviour with a targeted lifetime vs crack path. In its second on-going use, it enables the comparison with Finite Element Modelling for a better crack path and lifetime prediction.