19.10.2016 | Ausgabe 2/2017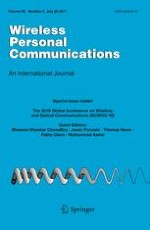 A Stochastic Geometry Approach to the Energy Load of Relaying in Large-Scale Wireless Networks
Zeitschrift:
Autoren:

Ning Wei, Feng Liao, Zhongpei Zhang
Wichtige Hinweise
This research was supported in part by National Natural Science Foundation of China (Grant No. 61101092, 61571003), National Science and Technology Major Project of China (Grant No. 2012ZX03001003-003), Fundamental Research Funds for the Central Universities (Grant No. ZYGX2015J014) and National High-tech R&D Program of China (863 Program Grant No. 2014AA01A706).
Abstract
Multi-hop relaying divides a long radio link into multiple short radio links and thus may reduce the overall energy consumption in wireless networks. But using relaying imposes additional energy load at intermediate relays, the characterization of which is of fundamental interest. In this paper, we propose a novel stochastic geometric model to investigate the energy load of relaying in a random large-scale wireless network. We introduce a notion of
relay selection window
, defined as the range in which a helping relay is searched for a typical source-destination pair. Under the proposed model, we derive closed form expressions to characterize the dependency of the energy load of relaying on relay selection window and several other key network parameters. The results may have practical implications in the design of wireless networks.