2016 | OriginalPaper | Buchkapitel Open Access
20. A Study of a Development of Internal Exposure Management Tool Suited for Japanese Diet Behavior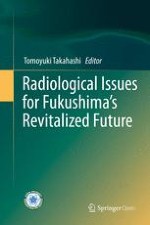 Autoren: Shin Hasegawa, Shinya Oku, Daisuke Fujise, Yuki Yoshida, Kazuaki Yajima, Yasuo Okuda, Thierry Schneider, Jacques Lochard, Isao Kawaguchi, Osamu Kurihara, Masaki Matsumoto, Tatsuo Aono, Katsuhiko Ogasawara, Shinji Yoshinaga, Satoshi Yoshida
Verlag: Springer Japan
Abstract
After the Fukushima Nuclear Power Plant accident, one of the main issues at stake was the potential intake of contaminated foodstuff by residents of the affected areas. In this context, the importance of the management of the internal exposure by food intake has emerged. For this purpose, a system was developed for estimating the amount of the radioactivity ingested through the diet in order to manage the internal exposure evolution of exposed people. The ultimate goal of this system is to consider all the radiation exposure data including medical exposure in an integrated manner.
In this perspective, a tool that was used for internal exposure assessment in Europe after the Chernobyl disaster has been adapted to be suitable to Japanese diet behavior. The tool was implemented in a Web application in order to estimate the amount of radioactivity in the dish and to manage the internal exposure history of the individuals. This system automatically collects the test results of radionuclide in foods available on the web.
It manages the individual internal exposure history estimating the amount of radioactivity in the ingested dish. The developed application enables individual to manage his/her protection by checking radioactivity ingestion history and determining to eat or not the dish according to the amount of radioactivity in the dish. This system, which has the potential to contribute to the radiation protection culture of people living in the contaminated areas of Fukushima Prefecture, has been evaluated by specialists of radiation protection. The following step will be the test of the system by the individuals themselves.