12.02.2020 | Energy materials | Ausgabe 14/2020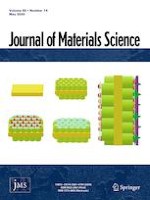 A study of CNT fiber-reinforced multi-carbon resource-coated SiOx composite as anode materials
Zeitschrift:
Autoren:

Wenchao Li, Renheng Tang, Bin Yuan, Ying Wang, Tai Sun
Wichtige Hinweise
Publisher's Note
Springer Nature remains neutral with regard to jurisdictional claims in published maps and institutional affiliations.
Abstract
To enhance the cycling and rate performances of SiO as an anode material, a CNT fiber-reinforced multi-carbon resource-coated SiOx composite (SiOx@MC/CNTs) prepared via a two-step pyrolysis process is evaluated. The SiOx@MC/CNTs composite exhibits a high initial coulombic efficiency of 74.6%, an initial charge capacity of 1400.5 mAh/g, and an initial discharge capacity of 1878.6 mAh/g. After 250 cycles, the composite shows a reversible capacity of 992.9 mAh/g, with a capacity retention rate of 70.9%. In addition, the composite obtains a good rate performance for the discharge capacities of 1381.3 mAh/g at 0.5 A/g and 1328.1 mAh/g at 1.0 A/g. The improved properties should be ascribed to the amorphous carbon layer and the CNT addition. The carbon layer prevents SiOx surface from direct contacting the electrolyte and adapts the volume change of SiOx particles during the repeated lithiation/delithiation process. The composite exhibits high conductivity of 4637.8 S/cm which is seven times higher than SiOx without the amorphous carbon layer and CNTs. This fabricating process can be a reference for the preparation of SiOx anode materials.