05.02.2020 | Original | Ausgabe 2/2020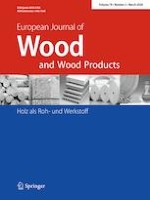 A study of the influence of press parameters on particleboards' performance
Zeitschrift:
Autoren:

C. Gonçalves, J. Pereira, N. T. Paiva, J. M. Ferra, J. Martins, F. D. Magalhães, A. Barros-Timmons, L. Carvalho
Wichtige Hinweise
Publisher's Note
Springer Nature remains neutral with regard to jurisdictional claims in published maps and institutional affiliations.
Abstract
Nowadays, wood-based panel producers intend to lower costs by decreasing the pressing time and reducing resin consumption. Therefore, the aim of this work is to understand the influence of the pressing operating conditions (pressing time and pressing program) on the performance of particleboards (PBs) bonded with a UF resin (alkaline–acid process). For this purpose, several trials were carried out using a computer-controlled laboratory scale hot-press with a press cycle simulating a continuous press and a fixed position laboratory scale hot-press, varying the venting, the total pressing time (< 90 s, 90 s and > 90 s) and the gluing factor (resin content—4, 5 and 6 mg resin solids/g oven dry wood). Analysis of variance (ANOVA) was performed in order to evaluate the significance level of the effects of these parameters on PB's physico-mechanical properties and formaldehyde content. The main results of the study were: to decrease formaldehyde content, resin content (RC) should be increased for pressing times higher or equal to 90 s or decreased for pressing times lower than 90 s; to increase internal bond, RC must be increased for pressing times equal or higher than 90 s, or decreased for pressing times lower than 90 s.