26.07.2016 | Ausgabe 10/2016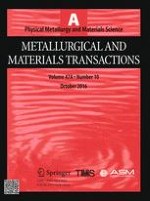 A Study on the Effect of Strain Rate on the Dynamic Recrystallization Mechanism of Alloy 617B
Zeitschrift:
Autoren:

He Jiang , Jianxin Dong, Maicang Zhang, Zhihao Yao
Wichtige Hinweise
Manuscript submitted April 23, 2016.
Abstract
The effect of strain rate on dynamic recrystallization (DRX) behavior and mechanism of alloy 617B was investigated by isothermal compression test in a temperature range of 1393 K to 1483 K (1120 °C to 1210 °C) with a wide strain rate scope of 0.01 to 20 s
−1
. The microstructure evolution was investigated comprehensively by optical microscopy, electron backscatter diffraction (EBSD), electron channeling contrast imaging (ECCI), and transmission electron microscopy (TEM) to provide detailed insight into the effect of strain rate on DRX mechanism. The study shows that DRX is accelerated at both low strain rate and high strain rate conditions with an apparent sluggish kinetics at the intermediate strain rate of 1 s
−1
. In the low strain rate condition (
i.e.
, <1 s
−1
), DRX is mainly controlled by the growth of DRX nuclei due to the sufficient time. When the strain rate is higher than 1 s
−1
, besides the commonly accepted reason of adiabatic heat generated by high strain rate, enhanced DRX nucleation mechanism is crucial for the promotion of DRX at high strain rate. High strain rate could lead to enhanced pile-up of dislocation and higher stored energy, which can facilitate the process of DRX. In addition, distortion or subdivision of twins and "grain fragment" are detected when the strain rate is higher than 1 s
−1
, which provide additional DRX nucleation mechanism. As a result, the combined effect leads to the higher DRX nucleation rate to promote DRX at high strain rate. The effect of strain rate on DRX is the completion result between sufficiency of time on the one hand and adiabatic heat and enhanced nucleation mechanism on the other.