01.08.2016 | Original Article | Ausgabe 16/2016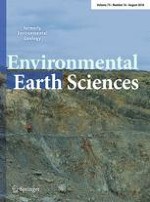 A superb modified new adsorbent,
Artocarpus odoratissimus

leaves, for removal of cationic methyl violet 2B dye
Zeitschrift:
Autoren:

L. B. L. Lim, N. Priyantha, N. A. H. Mohamad Zaidi
Abstract
Chemical modification of surfaces on
Artocarpus odoratissimus
leaves (TL) has been performed to enhance the applications of bear surfaces to improve biosorption ability toward methyl violet dye. Adsorption reactivity of both unmodified and modified TL is not sensitive to pH and ionic strength changes in the medium, indicating ease of optimization procedures for most efficient biosorption ability. Significant enhancement of adsorption capacity of modified TL, from 139.7 to 1004.3 mg g
−1
, is confirmed through adsorption equilibrium experiments, which fulfills the Langmuir model. Adsorption followed the pseudo-second-order kinetics, where a twofold increase in the rate constant was observed upon modification of TL. Modified TL was able to maintain high adsorption capacity even after five cycles of adsorption–regeneration. Therefore, from this study, TL has a great potential as a low-cost adsorbent for real-life environmental remediation application.