18.03.2019 | Ausgabe 4/2020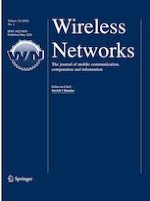 A survey of mmWave user association mechanisms and spectrum sharing approaches: an overview, open issues and challenges, future research trends
Zeitschrift:
Autoren:

Mothana L. Attiah, A. A. M. Isa, Zahriladha Zakaria, M. K. Abdulhameed, Mowafak K. Mohsen, Ihab Ali
Wichtige Hinweise
Publisher's Note
Springer Nature remains neutral with regard to jurisdictional claims in published maps and institutional affiliations.
Abstract
Fifth generation (5G) cellular networks promise to support multi-radio access technologies (multi-RATs) with low and high frequencies aiming at delivering good coverage, several gigabits data rate, and ultra-reliable services. In this context, user-association and resource allocation appear to be a huge challenge due to the variety of specifications and varied propagation environments. In this treatise, the focus is on the technical and administrative difficulties of the adoption of user association (UA) mechanism and spectrum sharing approach (SSA) in millimeter wave (mmWave) systems, for example, the technical design considerations and their underlying options, as well as their impact on users and network performance. In addition, details on the importance of the rules and regulations of SSA are presented. This study also identified a few possible design solutions and potential promising technologies in both UA and SSA. In the context of UA, several mechanisms are identified, such as backhaul-, caching-, and hybrid multi-criteria-aware UA to achieve seamless connectivity and to enhance the network utility. In the context of SSA, this study pinpoints varied subjects that need to be explored, such as joint efficient rules and regulations enactment, assessment of fairness and independence in multi-independent mobile network operators (multi-IMNOs) that support SSA, as well as the implementation of hybrid-SSA via Virtualized Cloud Radio Access Network. Finally, attention is drawn to several key conclusions to enable readers and interested researchers to learn about the most controversial points of mmWave 5G cellular networks.