2018 | OriginalPaper | Buchkapitel
5. A Tale of Two Cities: Innovation in Singapore and Hong Kong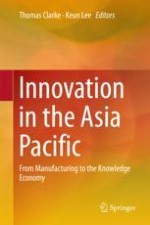 Erstes Kapitel lesen
Autor: Jue Wang
Verlag: Springer Singapore
Jetzt einloggen
Abstract
Singapore and Hong Kong are two small highly successful economies in Asia that illustrate very divergent paths of catching up and innovation as Jue Wang reveals. Singapore and Hong Kong have a similar history: both developed from British colonies and experienced an upgrade of industrial structure from labor intensive industries such as textile and clothing to high tech industries such as electronics and to banking and financial services (Young in NBER Macroeconomics Annual 7:13–51,
1992
). The two city states have comparable economic performance and competitiveness and are often placed close to each other in various rankings such as Global Competitiveness Report (WEF
2016
), World Competitiveness Yearbook (IMD
2016
), Global Innovation Index (GII
2016
). The GDP per capita in these two economies was almost identical until the 2000s. Singapore's economic growth slowed down in the late 1990s but quickly recovered and surpassed Hong Kong in 2004 and even overtook the US in 2011. With its recent success in finance and other sectors, Singapore is presently ahead of Hong Kong on many indicators. Although there are many similarities, the differences in the development trajectory of these two cities are clear, the most important distinction is the role of the government. Singapore is noted as government-made city-state for the high level of government intervention in various aspects of the society (Mok in Res Policy, 34, 537–554,
2005
). By contrast, Hong Kong adopts a "positive non-intervention" policy that favors the free economy and minimizes the power of government in influencing the market. The difference is reflected in the innovation policy in these two economies. The Singapore government has actively implemented a series of strategies and allocated substantial funds to promote innovation and entrepreneurship. While a similar set of policies and programs are in place to drive research and innovation in Hong Kong, the scale is much smaller.