01.01.2015 | Ausgabe 1/2015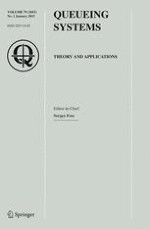 A Tandem Queueing model for an appointment-based service system
Zeitschrift:
Autoren:

Jianzhe Luo, Vidyadhar G. Kulkarni, Serhan Ziya
Abstract
We develop a queueing model for an appointment-based service system that consists of two queues in tandem: the appointment queue followed by the service queue. Customers join the appointment queue when they call for appointments, stay there (not physically) until the appointment time comes, and then leave the appointment queue and may physically join the service queue, and wait there until served, or become a no-show. The probability of becoming a no-show depends on the time spent in the appointment queue. We build a
Tandem Queue
model that explicitly captures the dependence between these two queues. We then derive several performance measures of interest, such as service utilization and customer long-run average waiting times in both queues. We also develop several approximation methods to compute the long-run average waiting time in the service queue, including one which is particularly useful when service times in that queue are not exponential.