2006 | OriginalPaper | Buchkapitel
A three-dimensional hierarchical model for topology optimization of structures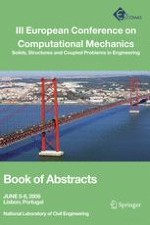 Erstes Kapitel lesen
Autoren: P. G. Coelho, P. R. Fernandes, J. B. Cardoso, J. M. Guedes, H. C. Rodrigues
Verlag: Springer Netherlands
The topology optimization of structures consists of the identification of solid and void regions within a design domain, for a given criterion and a prescribed amount of material. Using a material approach, the optimal topology is achieved by the distribution in space of a nonhomogeneous material of variable density. Regions with high density identify structure while regions with low value are interpreted as holes.
This nonhomogeneous material is often assumed as a cellular material with at least two scales: A macro scale apparently homogeneous with a given relative density, and a micro scale defined by a cell with a suitable geometric parameterization. The apparent mechanical properties are often computed by homogenization and depend on the cell parameters, which are the design variables of the optimization problem. For some problems, the question of how broad is the micro-scale parameterization to obtain the optimal structure is not an issue. Actually, in many implementations the material model for topology design is seen mainly as a tool for interpolating between material and void, in search for the optimal structural topology.
Here we address not only the structural optimal topology design but also the design of the material used. To achieve this we developed a hierarchical model for topology optimization of threedimensional structures where we underline the scope of the material distribution methods by emphasizing the design of the microstructure, i.e. we seek the general layout of composite structures, where the design of the microstructure is also controlled through computational models. This will allow us to work with a broad class of composites neither restricted to a specific type (cellular materials with square and rectangular holes, laminates), nor only optimal in a special setting (like single load compliance optimization). Moreover, the microstructures employed can, through the optimization model, be optimally selected based on design and manufacturing criteria. Finally note that the use of similar modeling methodologies can give a considerable insight into the fine structure of natural materials, for example in bone or wood.
The hierarchical three-dimensional model leads to massive computation. The two-scale model implies the iterative solution of one problem at a global (or macro) scale and many problems at a local (or micro) scale in order to characterize the microstructure. Once local problems are independent it is developed in this work a parallel computation environment to solve them.