01.02.2011 | Original Contribution | Ausgabe 3/2011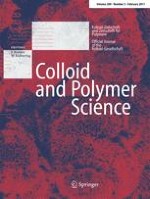 A three-phase microstructural model to explain the mechanical relaxations of branched polyethylene: a DSC, WAXD and DMTA combined study
Zeitschrift:
Autoren:

Sandra Martín, Juan F. Vega, María T. Expósito, Araceli Flores, Javier Martínez-Salazar
Abstract
The thermal transitions of well-characterised single-site catalysed polyethylenes having various degrees of short chain branching have been studied by differential scanning calorimetry, X-ray diffraction and dynamic mechanical thermal analysis. A critical discussion based on the results obtained by means of the different techniques is presented. The results suggest that the γ transition is independent of the branching content and degree of crystallinity, pointing towards a sub-glass local relaxation mechanism related to both amorphous and crystalline fractions. The temperature of the β transition,
T
β
from dynamic mechanical measurements, is in agreement with the glass transition temperature obtained by calorimetry,
T
g
. Moreover,
T
γ
, and also
T
β
are directly related to a change in the thermal expansion coefficient of the amorphous phase observed by X-ray scattering. It is found that the corresponding scattering distance of the amorphous halo depends on crystallinity. In addition, the calorimetric heat capacity values at
T
β
do not account for the total amorphous fraction determined for each material. The relaxation motions assigned to the amorphous phase glass transition seems to parallel the subsequent melting of the crystalline structure, suggesting a hierarchical motion of different structures as temperature increases. Dynamic mechanical thermal analysis supports these observations, showing a broad transition in the phase angle involving first the relaxation of amorphous phase, then the (presumable) more rigid intermediate phase, and finally the crystalline phase, as the temperature increases.