04.06.2016 | Ausgabe 3/2016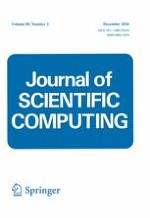 A Two-Stage Low Rank Approach for Calibrationless Dynamic Parallel Magnetic Resonance Image Reconstruction
Zeitschrift:
Autoren:

Likun Hou, Hao Gao, Xiaoqun Zhang
Wichtige Hinweise
Hao Gao was partially supported by the NSFC (#11405105), the 973 Program (#2015CB856004), and the Shanghai Pujiang Talent Program (#14PJ1404500). L. Hou and X. Zhang were partially supported by NSFC (#91330102) and Sino-German center grant (GZ1025), China Postdoc Science Foundation (# 2014M551392), and 973 Program (# 2015CB856004).
Abstract
Parallel magnetic resonance imaging (MRI) is an imaging technique by acquiring a reduced amount of data in Fourier domain with multiple receiver coils. To recover the underlying imaging object, one often needs the explicit knowledge of coil sensitivity maps, or some additional fully acquired data blocks called the auto-calibration signals (ACS). In this paper, we show that by exploiting the between-frame redundancy of dynamic parallel MRI data, it is possible to achieve simultaneous coil sensitivity map estimation and image sequence reconstruction. Specially, we introduce a novel two-stage approach for dynamic parallel MRI reconstruction without pre-calibrating the coil sensitivity maps nor additionally acquiring any fully sampled ACS. Numerical experiments demonstrate that, the performance of the proposed approach is better than other state-of-the-art approaches for calibrationless dynamic parallel MRI reconstruction.