01.10.2012 | Original Research | Ausgabe 1-2/2012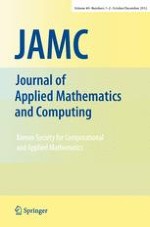 A two-strain epidemic model with mutant strain and vaccination
Zeitschrift:
Autoren:

Liming Cai, Jingjing Xiang, Xuezhi Li, Abid Ali Lashari
Wichtige Hinweise
Supported by the National Natural Science Foundation of China (10971178), University Key Teacher Foundation of He'nan Province (2009GGJS-076).
Abstract
In this paper, it is assumed that the spread of a pathogen can mutate in the host to create a second, cocirculating, mutant strain. Vaccinated individuals perhaps becomes infected after being in contact with individuals infected with mutant strain. A two-strain epidemic model with vaccination is firstly investigated. The existence and stability properties of equilibria in this model are examined. By analyzing the characteristic equation and constructing Lyapunov functions, the conditions for local and global stability of the infection-free, boundary and endemic equilibria are established. The existence of Hopf bifurcation from the endemic equilibrium is also examined as this equilibrium loses its stability. Our theoretical results are confirmed by numerical simulations.