01.08.2014 | Original Paper | Ausgabe 4/2014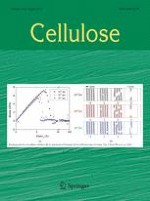 A versatile amphiprotic cotton fiber for the removal of dyes and metal ions
Zeitschrift:
Autoren:

Jiaqing Xiong, Chenlu Jiao, Chenmei Li, Desuo Zhang, Hong Lin, Yuyue Chen
Wichtige Hinweise
Electronic supplementary material
The online version of this article (doi:
10.​1007/​s10570-014-0318-z
) contains supplementary material, which is available to authorized users.
Abstract
Adsorption is an efficient method to combat the important issues of water pollution caused by dyes and metal ions. However, due to the surface charge diversity of pollutants, there is a pressing need to develop an all-round, efficient, cheap and environmentally friendly adsorbent. To this end, this work synthesized an amphiprotic adsorbent based on cotton fibers, which were chemically modified with a cationic monomer (3-chloro-2-hydroxypropyl trimethyl ammonium chloride) and anionic monomer (2-acrylamide-2-methyl propane sulfonic acid) respectively. The resultant amphiprotic cotton (AP-cotton) can cope with both of anionic and cationic pollutants. Its adsorption behavior as influenced by the pH value, adsorption time and initial concentration of various adsorbates was investigated. The results demonstrate that the adsorption equilibrium was reached within 4 h for Congo red (CR) and methylene blue (MB), 2 h for Cu2+ and 3 h for Pb2+, respectively. Adsorption kinetics showed that the adsorption rate was well fitted with the pseudo-second-order rate model, and the best adsorption isotherms fitted the Langmuir model. The Langmuir maximum adsorption capacities were 175.1 mg/g for CR, 113.1 mg/g for MB, 88.9 mg/g for Cu2+ and 70.6 mg/g for Pb2+, respectively, and the adsorption capacities could be maintained above 90 % after six regenerations. The all-round adsorption capacity and good regeneration performance of AP-cotton benefited from its hollow, flat-banded structure and amphiprotic characteristic. Therefore, AP-cotton exhibited a much better application potential compared with many other reported adsorbents based on natural materials.