06.11.2019 | Original Research | Ausgabe 2/2020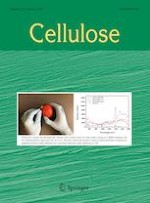 A versatile TOCN/CGG self-assembling hydrogel for integrated wastewater treatment
Zeitschrift:
Autoren:

Lei Dai, Ting Cheng, Xiangju Xi, Shuangxi Nie, Huizhen Ke, Yishan Liu, Shuhua Tong, Zhirong Chen
Wichtige Hinweise
Electronic supplementary material
Publisher's Note
Springer Nature remains neutral with regard to jurisdictional claims in published maps and institutional affiliations.
Abstract
Water pollution caused by industrial discharges is a severe threat to our society. Thus, efficient and sustainable materials that can provide potential effective solutions are in high demand. The present work reports the development of a versatile strategy based on TEMPO-oxidized cellulose nanofibers (TOCN)/cationic guar gum (CGG) self-assembling hydrogels to remedy wastewater containing oil, heavy metal ions or organic dyes. The TOCN/CGG hydrogel-coated filter papers, prepared via a layer-by-layer deposition process, show a high oil/water separation efficiency (around 99%), with the coating amount of being as low as 0.032 g m−2 (dry mass). Through gravitational force only, the water flux can be as high as 443 L m−2 h−1. The as-prepared oil/water separation materials exhibited good recyclability. The monolithic TOCN/CGG hydrogel can also efficiently remove copper ions (Cu2+) and dyes (i.e. thioflavin T and methyl orange), based on an adsorption mechanism. The adsorption amount of Cu2+ can be as high as 498.5 mg g−1, while that of thioflavin T and methyl orange can be 430.2 mg g−1 and 134.3 mg g−1, respectively. The mass transfer driving force and the number of active binding sites are the two main factors affecting the adsorption process. This all-polysaccharide hydrogel system may be a promising potential for wastewater remedy, due to its facile/"green" preparation process and high performance, as well as the abundance and environmental-friendliness of its raw materials.
Graphic abstract
×