01.12.2004 | Report | Ausgabe 6/2004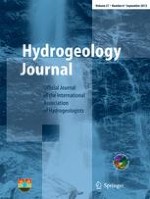 A very large scale GIS-based groundwater flow model for the Nubian sandstone aquifer in Eastern Sahara (Egypt, northern Sudan and eastern Libya)
Zeitschrift:
Autoren:

W. Gossel, A. M. Ebraheem, P. Wycisk
Abstract
A three-dimensional GIS-based groundwater flow model for the Nubian Sandstone Aquifer in the eastern Sahara was developed and calibrated under steady-state and transient conditions. The model was used to simulate the response of the aquifer to climatic changes that occurred during the last 25,000 years. The simulation results indicated that the groundwater in this aquifer was formed by infiltration during the wet periods 20,000 and 5,000 years
b.p
. The recharge of groundwater due to regional groundwater flow from more humid areas in the south was excluded. It also indicates that the Nubian Aquifer System is a fossil aquifer, which had been in an unsteady state condition for the last 3,000 years.