2018 | OriginalPaper | Buchkapitel
1. A Virtual Launch into a Computational Cosmos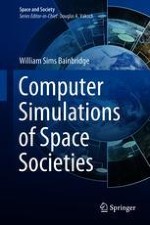 Autor: William Sims Bainbridge
Abstract
To provide an overview of the multiple applications of computer simulation for exploration of social issues relating to spaceflight, this chapter begins by defining simulation, with the historical examples of ENIAC and Geniac. A discussion of the current structure of computational social science provides the context for modern academic approaches in computer simulation of human behavior. Based on ethnographic observational research, the chapter then introduces a popular version of space-related simulation in the non-game, user-created virtual world,
Second Life
. Next, the massively multiplayer role-playing game,
Star Trek Online
, illustrates the compromises apparently required in the design of virtual spaceships in order to engage a wide audience in exploration of the final frontier. Remarkably, 10 of the 50 most innovative personal computer games of all time, according to a respected list voted by critics, concern spaceflight. The chapter concludes with analysis of questionnaire data on the personal values of volunteers for an historic but failed experiment to simulate a Martian colony, not on Internet, but in real life.