2018 | OriginalPaper | Buchkapitel
A Web Application for Creating and Sharing Visual Bibliographies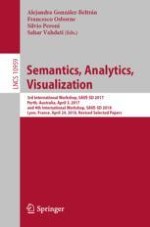 Erstes Kapitel lesen
Autoren: Marco Corbatto, Antonina Dattolo
Abstract
The amount of information provided by peer-reviewed scientific literature citation indexes such as Scopus, Web of Science (WOS), CrossRef and OpenCitations is huge: it offers users a lot of metadata about publications, such as the list of papers written by a specific author, the editorial and content details of a paper, the list of references and citations. But, for a researcher it could also be interesting to: extract these data in real time in order to create bibliographies, for example, by starting with a small set of significant papers or a restricted number of authors, progressively enriching them by exploring cited/citing references; dispose them in a graphical and aggregate representation; be able to easily share them with other interested researchers.
With these main intents, we modelled and realized VisualBib, a Web application prototype, which enables the user to select sets of papers and/or authors in order to create customized bibliographies, and visualize them in real time, aggregating data from different sources in a comprehensive, holistic graphical view.
The bibliographies are displayed using time-based visualizations, called narrative views, which contain explicit representations of the authorship and citing relations. These views may help users to: describe a research area; disseminate research on a specific topic and share personal opinions; present or evaluate the entire production of a researcher or research groups in a fresh way.