19.12.2017 | Computation | Ausgabe 7/2018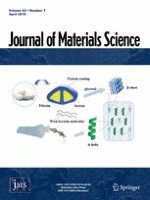 Ab initio design of drug carriers for zoledronate guest molecule using phosphonated and sulfonated calix[4]arene and calix[4]resorcinarene host molecules
Zeitschrift:
Autoren:

Yong-Man Jang, Chol-Jun Yu, Jin-Song Kim, Song-Un Kim
Abstract
Monomolecular drug carriers based on calix[
n
]arenes and calix[
n
]resorcinarenes containing the interior cavity can enhance the affinity and specificity of the osteoporosis inhibitor drug zoledronate (ZOD). In this work, we investigated the suitability of nine different calix[4]arenes- and calix[4]resorcinarenes-based macrocycles as hosts for the ZOD guest molecule by conducting ab initio density functional theory calculations for structures and energetics of eighteen different host-guest complexes. For the optimized molecular structures of the free, phosphonated, sulfonated calix[4]arenes and calix[4]resorcinarenes, the geometric sizes of their interior cavities were measured and compared with those of the host-guest complexes in order to check the appropriateness for host-guest complex formation. Our calculations of binding energies indicated that in gaseous states some of the complexes might be unstable but in aqueous states almost all of the complexes can be formed spontaneously. Of the two different docking ways, the insertion of ZOD with the P–O–P branch into the cavity of host was easier than that with the nitrogen-containing heterocycle of ZOD. The work will open a way for developing effective drug delivering systems for the ZOD drug and promote experimentalists to synthesize them.