04.11.2020 | Ausgabe 3/2021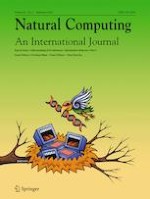 Absolute versus stochastic stability of the artificial bee colony in synchronous and sequential modes
Zeitschrift:
Autoren:

Sameh Kessentini, Ihcène Naâs
Wichtige Hinweise
Publisher's Note
Springer Nature remains neutral with regard to jurisdictional claims in published maps and institutional affiliations.
Abstract
The artificial bee colony (ABC) is a population-based optimization algorithm that mimics the foraging behavior of honeybees. Here, we focus on the parameter setting that ensures the ABC algorithm stability. Therefore, this paper introduces a matrix-iterative model, taking into account the coupling within bees. Moreover, the model considered the difference between update modes, i.e., synchronous or sequential. The necessary conditions for absolute stability were derived under the quasi-deterministic assumption. We further investigated the criteria for first and second-order stochastic stability. These criteria report on the ranges for setting the uniform distributions of the ABC algorithm. Finally, some supporting simulations were carried out on CEC 2017 benchmark functions in different search space dimensions (10, 30, and 50) and on twenty real-world problems (CEC 2011). Six considered ABC variants tested the derived and state-of-the-art criteria in different update modes. Moreover, ABC algorithms were compared with some state-of-the-art metaheuristics (Particle Swarm Optimization, Gravitational Search Algorithm, and Grey Wolf Optimizer). The overall results show that stochastic stability proffers ABC competitiveness. The two update modes may alter the ABC performance only slightly or drastically, depending on the problem, with no evidence on the supremacy of one of them.