01.09.2015 | Special Issue Paper | Ausgabe 1/2015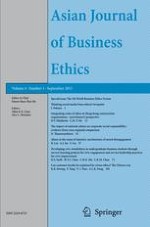 Abuse in the name of injustice: mechanisms of moral disengagement
Zeitschrift:
Autoren:

Raymond Loi, Angela J. Xu, Yan Liu
Abstract
Grounded in Bandura's (
Social foundations of thought and action: A social cognitive theory
, 1986) social cognitive theory of moral thought and action, we develop a conceptual model linking supervisors' perceptions of organizational injustice and abusive supervision with moral disengagement mechanisms acting as the underlying process. Specifically, we elaborate why and how supervisors' experiences of each type of injustice (i.e., distributive, procedural, interpersonal, and informational) would trigger their adoption of distinctive moral disengagement mechanisms, which in turn lead to their abusive supervisory conduct. The present conceptual model sheds new light on linking organizational injustice to abusive supervision from a moral perspective. In addition, it also provides important theoretical and managerial implications to our current understanding of why and how abusive supervision happens.