01.09.2015 | Regular Research Paper | Ausgabe 3/2015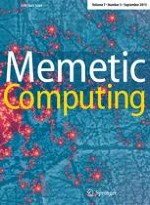 Accelerating Artificial Bee Colony algorithm with adaptive local search
Zeitschrift:
Autoren:

Shimpi Singh Jadon, Jagdish Chand Bansal, Ritu Tiwari, Harish Sharma
Abstract
Artificial Bee Colony (ABC) algorithm has been emerged as one of the latest Swarm Intelligence based algorithm. Though, ABC is a competitive algorithm as compared to many other optimization techniques, the drawbacks like preference on exploration at the cost of exploitation and skipping the true solution due to large step sizes, are also associated with it. In this paper, two modifications are proposed in the basic version of ABC to deal with these drawbacks: solution update strategy is modified by incorporating the role of fitness of the solutions and a local search based on greedy logarithmic decreasing step size is applied. The modified ABC is named as accelerating ABC with an adaptive local search (AABCLS). The former change is incorporated to guide to not so good solutions about the directions for position update, while the latter modification concentrates only on exploitation of the available information of the search space. To validate the performance of the proposed algorithm AABCLS,
\(30\)
benchmark optimization problems of different complexities are considered and results comparison section shows the clear superiority of the proposed modification over the Basic ABC and the other recent variants namely, Best-So-Far ABC (BSFABC), Gbest guided ABC (GABC), Opposition based levy flight ABC (OBLFABC) and Modified ABC (MABC).