01.10.2011 | Ausgabe 7/2011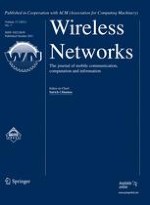 Access stratum resource management for reliable u-healthcare service in LTE networks
Zeitschrift:
Autoren:

Ki-Dong Lee, Athanasios V. Vasilakos
Abstract
With the rapid growth of elderly population, ubiquitous healthcare (u-healthcare) service combined with advanced wireless networking technology is gaining popularity. The advance in medical sensor technology has boasted up the u-healthcare market potential. However, the global connectivity with a sufficient level of reliability is still an issue to study for its prototype development. In our previous study (Lee et al. In: Proc BodyNets
2010
, Lee et al. in J Commun Netw 13(2):160–166,
2011
), the energy efficient packet-level scheduling was studied but the scheduling and management topics in the access stratum, which is the beginning part of end-to-end connection for ubiquitous healthcare service, are still open. In this paper, we study an efficient and adaptive method that can provide u-healthcare user devices with an increased level of access privilege so that the healthcare related user data, which is sometimes delay-critical, can be more favorable admitted to the access stratum. We develop a mathematical formulation for the access control in access stratum domain over the existing 3.9-th generation cellular communication standard, called long term evolution (LTE) and devise an efficient and exact algorithm to solve it. The proposed method has simplicity in implementation and efficiency in operation. In addition, it can improve key performance measures, such as call blocking and call dropping performance.