01.12.2009 | Original Article | Ausgabe 8/2009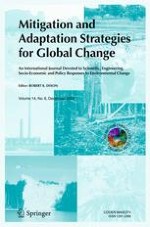 Accommodation of climate change in coastal areas of cameroon: selection of household-level protection options
Autor:

Ernest L. Molua
Wichtige Hinweise
This report was written while the author was a Research Fellow under the Centre for Environmental Economics and Policy in Africa (CEEPA) African Scholar Visiting Fellowship, at the Faculty of Economics and Management, Makerere University, Uganda, 1 March 2009 – 20 June 2009.
Abstract
Coastal areas are threatened under climate change because of factors related to vulnerability of society and sensitivity of the environment. Protection and adaptation may mitigate the adverse consequences. This research reviews and assesses the options of protection by homeowners in the coastal zone in the southwest region of Cameroon. The coastal zone of Cameroon is studied because of the observed deleterious effect of recent extreme climatic events. From a research sample of 400
households,
the house types and protection strategies - which are of two main types:
reactive measures
and
preventive measures
taken to offset adverse effects on property, are studied. A multinomial logit function reveals that income, education, age and gender are significant factors determining household's probability on the selection of protection measures. The study concludes that there are strong implications for adaptation to future climate change, and the ability of homeowners to extensively respond will have to be reinforced not only by communal and public works projects but also through an active government policy to promote climate change adaptation.