01.02.2011 | Original Article | Ausgabe 4/2011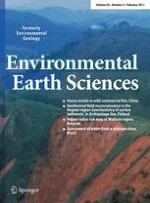 Accumulation of heavy metals in wild commercial fish from the Baotou Urban Section of the Yellow River, China
Zeitschrift:
Autoren:

Changwei Lü, Jiang He, Qingyun Fan, Hongxi Xue
Abstract
In this work we studied the accumulation of heavy metals in nine species of fish with different life and feeding habitats which are native and major commercial fish in the Baotou Urban Section of the Yellow River. The results showed that the concentration of heavy metals was significantly dependent on fish species; the pollution index of heavy metals in different species were ranked as
Hemiculter leucisclus
>
Carassius auratus auratus
>
Hemibarbus maculatus
>
Megalobrama amblycephala
>
Abbottina rivularis
>
Cyprinus carpio
>
Squaliobarbus curriculus
>
Perccottus glehni
>
Saurogobio dabryi
. Product–moment correlation coefficients among the metal pairs Pb–Zn, Cu–Cd, Cu–Zn, Cu–Pb, Pb–Cd, and Zn–Cd revealed there was no competitions between metals in each tissue. Correlations between heavy metal concentrations and fish length or weight indicated that accumulation of the heavy metals by the different fish species was related to their surrounding environments and their life and feeding habitats. According to the mean bioconcentration factors (BCFs), the heavy metal concentrations in these nine species were ranked Zn ≫ Cu > Cd ≈ Pb. In this work, the bioaccumulation factors (BAFs) were developed by using the sum of exchangeable and bound-to-carbonate heavy metals as Cs values. It was found that BAFs better reveal the accumulation characteristics of the heavy metals in the fish, which might provide an effective method for assessing bioaccumulation of heavy metals.