01.06.2015 | Original Article | Ausgabe 11/2015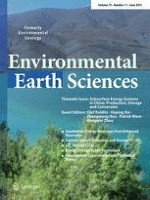 Accumulation of organic carbon over the past 200 years in alpine peatlands, northeast China
Zeitschrift:
Autoren:

Kunshan Bao, Guoping Wang, Wei Xing, Ji Shen
Abstract
Peatlands are widely distributed throughout northeast China and form a large carbon (C) pool. The main types include plain wetlands and alpine peatlands. Compared to the former, the historical development and C dynamics of the alpine peatlands are still not well understood. In this study, a total of nine peat cores from the Great Hinggan, Changbai and Fenghuang Mountains were collected and dated by
210
Pb and
137
Cs techniques. All samples were analysed for organic matter content through loss on ignition (LOI) and three core samples from Motianling peatland were further analysed for total organic carbon (TOC) by elemental analysis. A linear model between LOI and TOC was established as TOC = 0.405 × LOI + 0.968 (
R
2
= 0.7828,
P
< 0.0001) which is recommended for estimating organic C content and assessing C accumulation in the peatlands of northeast China. This conversion equation could lead to a 17.8 % overestimate of RERCA compared to elemental C determination, but it is preferable to using a conversion coefficient of 0.5, which could result in a 36.3 % overestimate than elemental analysis. The recent rate of C accumulation (RERCA) in the alpine peatlands is estimated between 128.85 and 203.73 g C m
−2
year
−1
and the average C storage per unit area is calculated as 31 ± 9 kg C m
−2
over the past 200 years. These are significant additions to the plain wetlands and this knowledge is helpful in forming a complete picture of C sequestration in wetlands of this region. Within-site difference for average RERCA reflects the need for a multi-core study of C accumulation in peatlands and between-site comparison of RERCA shows that the average RERCA increases towards the higher latitude. This pattern is mainly controlled by the peatland types. Results here will be useful to evaluate the C sequestration potential in peatlands and improve our understanding the response of alpine peatland ecosystems to projected climate change.