2018 | OriginalPaper | Buchkapitel
Accuracy of a Driver-Assistance System in a Collision Scenario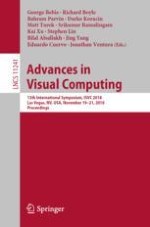 Erstes Kapitel lesen
Autoren: Waqar Khan, Reinhard Klette
Abstract
Object tracking for collision avoidance systems benefits from current progress in object detection by deep learning. For the purpose of collision avoidance, a hazard has to be tracked in several frames before the safety system can determine its future trajectory and issue a necessary warning for braking.
Because the detected object is defined by a rectangular boundary, it can represent (a non-rectangular) object as well as its background, thus leading to misleading tracking information. Therefore, we rely on feature points identified in the detected regions over time for performing feature point tracking. Feature points in the background are removed by performing clustering in real-world co-ordinates using iterative semi-global matching stereo as well as an approximate size of the detected object type.
While matching the feature points between consecutive frames, a best match might not be found. In such circumstances, initially an optimally tracked feature point is used for updating the tracking information of the mismatched feature point. However, with too many mismatches (possibly due to occlusion) its information is overwritten by a more recently matched feature point. We evaluated our system on created test video data involving a controlled collision course.