25.11.2020 | OPTOPHYSICAL MEASUREMENTS | Ausgabe 7/2020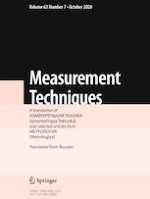 Accuracy of Lidar Measurements of the Concentration of Hydrofluoride Molecules in the Atmospheric Boundary Layer
Zeitschrift:
Autoren:

V. E. Privalov, V. G. Shemanin
Wichtige Hinweise
Translated from Izmeritel'naya Tekhnika, No. 7, pp. 29–33, July, 2020.
Issues of atmospheric pollution by hydrofluoride molecules are brought to light. The use of a Raman lidar for remote measurement of the concentration of molecules of various pollutants at level of tens and hundred of units of the maximum permissible concentration is considered. The measurement error is estimated for the concentration on the order of 1014 cm–3 and greater by hydrofluoride molecules in synchronous photon counting mode by lidar of the Raman scattering of light in the atmospheric boundary layer of altitude up to 1.5 km. Results are presented of the numerical solution of the lidar equation for Raman scattering of light by hydrofluoride molecules: the possible measured concentration of hydrofluoride molecules is approximately 1.5·1014 cm–3 with relative measurement error less than 25% at the wavelength of 405 nm for investigatory altitude no greater than 500 m.