31.10.2018 | Electronic materials | Ausgabe 4/2019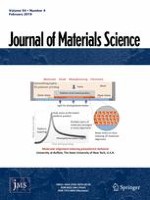 Accurate change of carrier types within ultrathin MoTe2 field-effect transistors with the time exposed to ambient air
Zeitschrift:
Autoren:

S. P. Wang, R. J. Zhang, L. Zhang, L. F. Feng, J. Liu
Wichtige Hinweise
Electronic supplementary material
Abstract
Two-dimensional MoTe2 attracts much attention due to its novel properties; however, the stability limits its application. Here, the electrical stability of ultrathin MoTe2 was systematically researched and the law of how carrier types within MoTe2 change when exposing to air with a long time period of 180 days was obtained. MoTe2 field-effect transistors (FETs) were prepared using mechanical exfoliation and dry transfer technology; then they were exposed to the air. Their electrical behaviors confirm that due to the air adsorption the carrier type within ultrathin MoTe2 gradually changes from initial ambipolar (electron and hole conduction) to the unipolar hole conduction (P type) after 100 days of the air exposure. The mobility of ambipolar MoTe2 FETs shows a non-monotonic law with the time. The electron mobility decreases first, then almost keeps unchanged between 24 and 47 days, since then it quickly drops to near zero. The hole mobility increases with the time and reaches a maximum value at the 47th day; then it reaches a stable value after passing a negligible reduction. This polarity shift can be attributed to the oxygen molecules adsorption, which was further proved by the X-ray photoelectron spectroscopy and the photocurrent response of FETs under ultraviolet illumination. Furthermore, at the 180th day, the device shows unique P-type conductivity and excellent output characteristics, which provides a very convenient method to make unipolar P-type MoTe2 FET from ambipolar MoTe2.