2013 | OriginalPaper | Buchkapitel
28. Achieving Environmental Security in the Arctic Ocean: The Institutional Challenges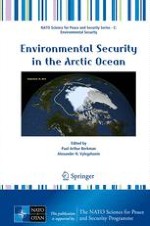 Erstes Kapitel lesen
Autor: Ingo Winkelmann
Verlag: Springer Netherlands
Abstract
The contribution puts the question of who deals with present challenges of globalization in the Arctic Ocean. It argues that there are a number of qualified observers of the Arctic game who can claim that events in the polar region have a considerable impact on them. The
"stewardship"
by the coastal States of the Arctic Ocean, as expressed in their
Ilulissat Declaration
(Ilulissat Declaration, Arctic Ocean conference, 27 May 2008.
http://​www.​oceanlaw.​org/​downloads/​arctic/​Ilulissat_​Declaration.​pdf
. ), should be exercised in the interest of all humankind and carries with it an obligation to address the institutional interplay. To shed more light on this interplay, the contribution examines the existing institutional regional structures that deal with the affairs and impact of environmental change in the Arctic, in particular in the Arctic Ocean. Specific attention is given to the Arctic Council, the apparently existing hierarchy amongst Arctic Council members, membership and observership in the Council, security aspects, the provisions of the Law of the Sea as enshrined in UNCLOS (1982. United Nations Convention on the Law of the Sea.
http://​www.​un.​org/​Depts/​los/​convention_​agreements/​texts/​unclos/​closindx.​htm
.) (including the Commission on the Limits of the Continental Shelf) and the yearly United Nations General Assembly (UNGA) resolutions on oceans and law of the sea. The contribution concludes that improvements could be made in regard to the Arctic Councils' structures, it rules of procedure, the possibility of an UNCLOS implementation agreement and, finally, appropriate amendments to relevant UNGA Resolutions. The contribution reaffirms finally that Arctic Ocean matters are matters of global importance.