2017 | OriginalPaper | Buchkapitel
3. Achilles Armenakis: A Journey of Discovery – Seeing Change Through New Eyes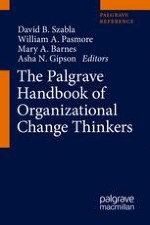 Erstes Kapitel lesen
Autor: Dennis R. Self
Verlag: Springer International Publishing
Abstract
The Scottish poet, Robert Burns, once wrote that "the best laid schemes o' mice and men, gang aft agley" (as cited in Crawford and MacLachlan
2009
, p. 48). The journey Achilles Armenakis has taken perhaps can be best described as a journey to understand why the best laid change schemes of men have "gang aft agley." This chapter describes his personal journey along with those of his colleagues to not only understand the problems that arise when organizational leaders try to implement change initiatives but also to offer a framework by which organizational symptoms impacting organizational performance may be recognized, causes of those symptoms discovered, and solutions to "fix the causes" may be proposed. Understanding the process of diagnosis and evaluation, while identifying diagnostic bias, initially drove much of his research. However, during his voyage of research and discovery, Armenakis focused on change readiness or readiness for change in an organization. Along with his colleagues, and those doctoral students he so much influenced as a teacher, he has sought to answer the critical question of how change impacts organizational members, or change recipients, and what motivates them to not only accept but embrace a change initiative. I was one of those students fortunate enough to have the opportunity of studying under him and being along on part of that voyage. A favorite quote of his over the years has been that of Marcel Proust (Proust,
Remembrance of things past
. New York: Vintage Books, 1981 edition): "The real voyage of discovery consists not in seeking new lands, but in seeing with new eyes." Somehow, this has always seemed appropriate.