10.01.2019 | Chemical routes to materials | Ausgabe 8/2019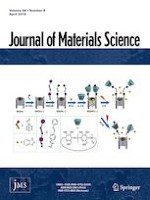 Acid and light stimuli-responsive mesoporous silica nanoparticles for controlled release
Zeitschrift:
Autoren:

Mingdong Wang, Ting Wang, Dong Wang, Wei Jiang, Jiajun Fu
Wichtige Hinweise
Electronic supplementary material
Mingdong Wang and Ting Wang contributed equally to this article.
Abstract
We constructed a novel stimuli-responsive system, MSNPs 1, based on mechanized silica nanoparticles, in which mesoporous silica nanoparticles (MSNs) acted as nanocontainers to load cargo, and supramolecular switches consisting of hydrazone bond, azobenzene and α-cyclodextrin (α-CD) realized the controlled release of cargo molecules from MSNPs 1. In neutral solution and without UV light irradiation, the azobenzene component on functional stalks was in
trans
form, and combined with α-CD to block the mesoporous channels and prevent the cargo from escaping. Upon adjusting the solution pH to acid range, the acid-sensitive hydrazone bonds rapidly hydrolyzed, resulting in the disconnection between pseudorotaxanes and MSNs. The encapsulated cargo molecules were released simultaneously from MSNPs 1 due to the removal of supramolecular switches. On the other hand, when the neutral solution was irradiated with UV light at 365 nm,
trans
-azobenzene converted to
cis
, disassociating with α-CD to activate the switches and release the cargo. The unique acid- and light-triggered controlled release properties of MSNPs 1 have potential application in various fields. In this manuscript, doxorubicin (DOX) was selected to be stored in MSNPs 1, due to the anticancer property. MCF-7 human breast cancer cells could phagocytose DOX-loaded MSNPs 1 easily, and the released DOX showed the killing effect.