01.01.2015 | Original Paper | Ausgabe 1/2015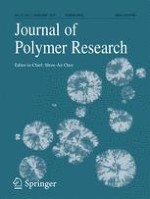 Acrylic hydrogels containing MET-loaded poly(acrylic acid-
co

-methyl methacrylate) micro- and nanoparticles
Zeitschrift:
Autoren:

Katarzyna Bialik-Wąs, Krzysztof Pielichowski, Michał Zielina
Abstract
Acrylic hydrogels containing metronidazole (MET)-loaded poly(acrylic acid-
co
-methyl methacrylate) (PAM) micro- and nanoparticles were prepared. The size distributions of the PAM micro- and nanoparticles and the MET-loaded PAM micro- and nanoparticles were determined by dynamic light scattering (DLS), and particle microstructure was characterized using wide-angle X-ray diffraction (WAXD). Hydrogel structure was examined using FTIR-ATR spectroscopy and surface morphology was characterized using scanning electron microscopy, with elemental analysis performed at particular points and on the surface (SEM-EDS). The resulting composite hydrogels were studied in terms of their swelling behavior and biological properties in water and simulated body fluid (SBF and Ringer's solution). In addition, the drug release behavior of the hydrogels was evaluated in water and phosphate-buffered saline (PBS) at 37 °C. The acrylic hydrogels containing MET-loaded PAM micro- and nanoparticles showed pulsatile MET release profiles that could prove beneficial in wound treatment, as they would allow controlled regeneration of tissue under healing conditions.