30.11.2014 | Ausgabe 3/2016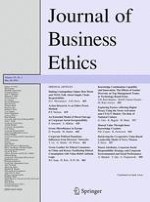 Action Research As an Ethics Praxis Method
Zeitschrift:
Autor:

Richard P. Nielsen
Abstract
Action research is combined research and practical action where the researcher joins with and acts with practitioners to help improve practice and theory building. Action research can be a form of Aristotelian critical, ethical praxis that developmentally changes the action researcher and the external world. Bernstein's (Praxis and action,
1971
) and Eikeland's (The ways of Aristotle,
2008
) interpretations of Aristotelian ethics praxis are considered. The Argyris et al. (Action science: concepts, methods, and skills for research and intervention,
1985
) "action-science" and the van de Ven (Engaged scholarship: A guide for organizational and research knowledge,
2007
) "engaged scholarship" forms of action research with their differently nuanced interpretations of Aristotelian philosophy as foundations for action research are considered and compared as examples of action research as an ethics praxis method with respect to (1) a key similarity with respect to joining of critical ethics and actionable knowledge; (2) another key similarity with respect to action research practice that can developmentally change the action researcher and the external world; and (3) a key difference with respect to academic literature versus practitioner-based theory building is also considered (Nielsen J Bus Ethics 93:401–406,
2010a
). Examples in the cases of the political economist and action researcher, Hirschmann's "Exit,Voice, Loyalty" approach and Greenleaf's "Servant Leadership" approach to action research as forms of Aristotelian critical, ethical praxis are analyzed.