2020 | OriginalPaper | Buchkapitel
Action Sequencing in VR, a No-Code Approach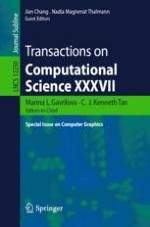 Erstes Kapitel lesen
Autoren: Flavien Lécuyer, Valérie Gouranton, Adrien Reuzeau, Ronan Gaugne, Bruno Arnaldi
Verlag: Springer Berlin Heidelberg
Abstract
In many domains, it is common to have procedures, with a given sequence of actions to follow. To perform such procedures, virtual reality is a helpful tool as it allows to safely place a user in a given situation as many times as needed, without risk. Indeed, learning in a real situation implies risks for both the studied object – or the patient – (e.g. badly treated injury) and the trainee (e.g. lack of danger awareness). To do this, it is necessary to integrate the procedure in the virtual environment, under the form of a scenario. Creating such a scenario is a difficult task for a domain expert, as the coding skill level needed for that is too high. Often, a developer is needed to manage the creation of the virtual content, with the drawbacks that are implied (e.g. time loss and misunderstandings).
We propose a complete workflow to let the domain expert create their own scenarized content for virtual reality, without any need for coding. This workflow is divided in two steps: first, a new approach is provided to generate a scenario without any code, through the principle of
creating by doing
. Then, efficient methods are provided to reuse the scenario in an application in different ways, for either a human user guided by the scenario, or a virtual actor controlled by it.