01.09.2012 | Original Article | Ausgabe 1/2012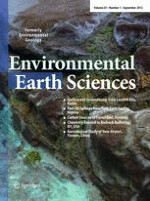 Active and online prediction of BOD5 in river systems using reduced-order support vector machine
Zeitschrift:
Autoren:

Roohollah Noori, Abdulreza Karbassi, Khosro Ashrafi, Mojtaba Ardestani, Naser Mehrdadi, Gholam-Reza Nabi Bidhendi
Abstract
Due to the limitations of hardware sensors for online measurement of the water quality parameters such as 5-day biochemical oxygen demand (BOD
5
), the recent research efforts have focused on the software sensors for the rapid prediction of such parameters. The main objective in this research is to develop a reduced-order support vector machine (ROSVM) model based on the proper orthogonal decomposition to solve the time-consuming problem of the BOD
5
measurements. The performance of the newly developed methodology is tested on the Sefidrood River Basin, Iran. Subsequently, the predicted values of BOD
5
, resulted from the selected developed ROSVM model, are compared with the results of support vector machine (SVM) model. According to the obtained results, selected ROSVM model seems to be more accurate, showing Person correlation coefficient (
R
) and root mean square error (RMSE) equal to 0.97 and 6.94, respectively. Further, the investigations based on developed discrepancy ratio (DDR) statistic for selection of the optimum model between the best accurate ROSVM and SVM models are carried out. Results of DDR statistic indicated superior performance of the selected ROSVM model comparing to the SVM technique for online prediction of BOD
5
in the Sefidrood River.