2019 | OriginalPaper | Buchkapitel
Active Learning Approach for Safe Process Parameter Tuning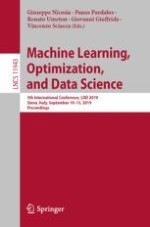 Erstes Kapitel lesen
Autor: Stefano De Blasi
Abstract
The amount of sensor data in industry increases dramatically due to the digitization of plants and the Industrial Internet of Things (IIoT) evolution. This rapid technological revolution creates new opportunities in intelligent automation, but also challenges. As the complexity of the manufacturing processes increases accordingly, it becomes increasingly difficult to understand how a process is affected by physical conditions, not to mention optimizing process parameters with traditional methods.
In order to deal with the latter problem, an active learning approach is presented that can be used during production processes and that guarantees a user-defined minimum performance during learning. Based on Gaussian processes it is also possible to contribute already existing domain expertise to the learning process. We demonstrate that an additional solid expertise prevents an increase in the risk of failure throughout the automated optimization process.
With the proposed method manufacturers are able to evaluate their expertise based policy or even gain further knowledge about correlations by made performance improvements. The approach is generic and suitable for applications in mass production or frequently recurring tasks. Since the test results are promising, the next step is to create initial industrial prototypes.