2008 | OriginalPaper | Buchkapitel
49. Active Noise Control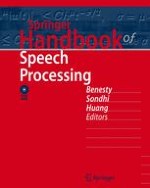 Erstes Kapitel lesen
Autoren: Dr. Sen M. Kuo, Dr. Dennis R. Morgan
Verlag: Springer Berlin Heidelberg
Abstract
This chapter introduces principles, algorithms, and applications of active noise control (ANC) systems. We emphasize the practical aspects of ANC systems in terms of adaptive algorithms for real-world applications. The basic algorithm for ANC is first developed and analyzed based on broadband feedforward control. This algorithm is then modified for narrowband feedforward and adaptive feedback ANC systems. Finally, these single-channel ANC algorithms are expanded to multichannel systems for three-dimensional applications.
An ANC system can be categorized as either feedforward or feedback control. Feedforward ANC systems are classified into
1.
broadband control with a reference sensor, which will be discussed in Sect.
49.1
, and
2.
narrowband control with a reference sensor that is not influenced by the control field, which will be introduced in Sect.
49.2
.
The concept of adaptive feedback ANC will be developed in Sect.
49.3
from the standpoint of reference signal synthesis. These single-channel ANC systems will be expanded to multichannel systems in Sect.
49.4
.