2018 | OriginalPaper | Buchkapitel
18. Activities for International Peace and Security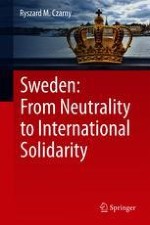 Erstes Kapitel lesen
Autor: Ryszard M. Czarny
Abstract
An important part of the Swedish activity on the international stage, developed during the 1960s and 1970s, was distinctive mediation 'capabilities' and negotiations between the parties in conflict. This sprang from both a deep conviction of the Swedes themselves that their country thanks to its neutrality can guarantee impartiality and fairness in the resolution of disputes, and the perception of Sweden on the international stage. Olof Palme himself felt that his duty was to build understanding between East and West. As a member of the Security Council during the years 1975–1976, Sweden offered "good services" and has been active in proposing solutions to global issues such as human rights, disarmament, or the development of the Third World countries. In the United Nations, Sweden has developed a work relationship with these countries to promote their interests within the organization. All these efforts have had two main objectives. On the one hand, it was about building a credible image of an active policy of neutrality, and on the other they were linked to the already mentioned conviction that Sweden's own national interest dictated its engagement in mitigation of any international disputes which if not resolved, might escalate and threaten Sweden's security (Agius in
The social construction of Swedish neutrality. Challenges to Swedish identity and sovereignty
. Manchester University Press, Manchester, pp. 110–111,
2006
). A similar belief guided Swedish engagement in the Conference on Security and Cooperation in Europe as part of N + N Group (Neutral and Non-Aligned), which played a significant role mediating various compromise solutions (Karsh in
Neutrality and Small States,
London, pp. 129–130,
1988
).