2015 | OriginalPaper | Buchkapitel
Adaptation of Irrigated and Rainfed Agriculture to Climate Change: The Vulnerability of Production Systems and the Potential of Intraspecific Biodiversity (Case Studies in Italy)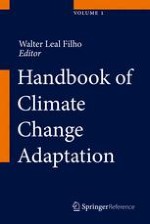 Erstes Kapitel lesen
Autoren: Massimo Menenti, S. M. Alfieri, A. Bonfante, M. Riccardi, A. Basile, E. Monaco, Carlo De Michele, Francesca De Lorenzi
Verlag: Springer Berlin Heidelberg
Abstract
This chapter addresses the biophysical dimension of adaptation. A framework is developed and applied to evaluate options for adaptation in different and relevant Italian agricultural cropping systems. Adaptation options rely on the identification of alternate cultivars optimally adapted to expected climate conditions, building on crops' intraspecific biodiversity. The aim is to remove or at least reduce the vulnerability of current production systems by identifying alternate cultivars optimally adapted to expected climate conditions, without altering the pattern of current species and production systems.
A new approach is proposed to (i) evaluate indicators of expected thermal and hydrologic conditions within a specific landscape and production system, (ii) identify the cultivar-specific thermal and hydrologic requirements for the optimal growth of a set of cultivars, and (iii) identify as options for adaptation the cultivars for which expected climate conditions match the climatic requirements. A robust methodology is provided to assess adaptive capacity, relying on mechanistic simulation models and on the identification of cultivar-specific climatic conditions required for optimal development and yield.
The approach is demonstrated through three case studies on (a) rainfed agriculture, (b) irrigated herbaceous crops, and (c) irrigated fruit crops. For rainfed agriculture, we have identified cultivars adapted to climate predicted for the period 2021–2050. For irrigated crops, we have evaluated adaptability for irrigation schedules ranging from optimal to severely reduced water depths. Options for adaptations of herbaceous and fruit crops have been identified as a combination of cultivars and irrigation schedules.