2015 | OriginalPaper | Buchkapitel
Adaptation Strategies Against Salinity-Induced Vulnerability in Coastal Bangladesh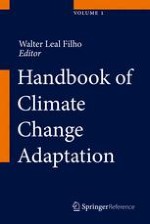 Erstes Kapitel lesen
Autor: Mustafa Saroar
Verlag: Springer Berlin Heidelberg
Abstract
Both climatic and non-climatic factors' induced salinity in coastal plains has posed a formidable challenge for livelihood security of natural resource-dependent coastal population in Bangladesh. This chapter is aimed to identify the broad adaptation strategies that are more likely to be employed by coastal people against salinity to secure their livelihood.
This study heavily draws on quantitative inquiry. Field data and information were collected through a semi-structured questionnaire from 225 respondents selected randomly from salinity-affected three coastal villages located around swampy mangrove forests –
Sundarbans
in Bangladesh. For data analysis various statistical tools, especially multinomial logistic regression (M-Logit) model, were used.
Subsistence agriculture, fisheries, open water fishing, and extraction of both timber and non-timber forest products from
Sundarbans
have appeared as the dominant sources of livelihood which are seriously impacted by salinity intrusion. Against the impacts of salinity, respondents have adopted almost a dozen of specific strategies and a couple of more they might adopt in the future as well. However, broadly there are three strategies they might eventually employ. M-Logit models have predicted that whether respondents would prefer
crop agriculture and allied jobs
over
saline shrimp farming
or
intensification of resource extraction from Sundarbans
would be significantly determined (LR chi-square = 308.17, pseudo R
2
= 0.86,
p
< .001) by factors such as socio-demographic (education [
p
= .001], occupation [
p
= .02], NGO's membership [
p
= .00], power in local polity [
p
= .03]), economic (farm size [
p
= .002], disaster recovery period [
p
= .00]), adaptive behavioral (seasonal migration [
p
= .00], shrimp-harvest failure [
p
= .05]), and spatial/locational (attachment to the locality [
p
= .049], tidal inundation of cropland [
p
= .005], land suitability for cropping [
p
= .08]) aspects. In line with these findings, suggestions are provided.
The policy implication of the study is if measures were taken in line with findings, it would help the poor and marginalized coastal population to better adapt with the impacts of salinity on their natural resource-based livelihood.