2016 | OriginalPaper | Buchkapitel
11. Adaptations to Possible Climate Change Impacts: Problem Structuring Based on VFT Methodology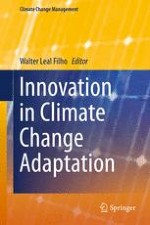 Erstes Kapitel lesen
Autoren: Ph. D. Luiz Priori, Ph. D Marcelo Hazin Alencar, Ph. D Adiel Teixeira de Almeida
Abstract
This paper presents a research study, the objective of which is to generate alternatives to improve the urban infrastructure systems of Recife, capital of the Brazilian state of Pernambuco, and to develop the city's adaptability to possible impacts of climate change. This city is always at risk from flooding and landslides caused by erosion of hillsides when heavy and/or prolonged rains occur. These cause destruction and deaths.
The research method applied was a case study and the data were collected through direct observation in an attempt to identify vulnerabilities in the infrastructure of the city. The data collected were analysed by 20 experts on urban infrastructure systems and the adaptation problem was structured around Value-Focused Thinking (VFT) methodology.
Among other findings, it became clear that electricity poles and wires are poorly maintained; there are urban drainage problems and substantial losses from the water distribution network; there is a lack of maintenance of the sewage collection network; and the municipal waste is collected irregularly. These are some of the problems which have led to putting forward a set of alternatives to improve the infrastructure of urban systems. It was concluded that the city is not in a state of readiness to counteract the adverse impacts of possible climate changes.