01.03.2015 | Ausgabe 2/2015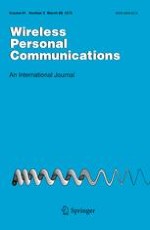 Adaptive and Autonomous Channel Access Methods for Distributed Cognitive Radios
Zeitschrift:
Autoren:

Zaheer Khan, Janne Lehtomäki
Wichtige Hinweise
This work was funded by Academy of Finland.
Abstract
In distributed multichannel cognitive radio (CR) networks, autonomous CRs face competition from one another to access the potentially available channels. Efficient resource allocation in such scenarios can be achieved by carrying out negotiation among distributed CRs via a coordinator (base station) or with the help of a common control channel. While the use of a coordinator or a common control channel simplifies the problem, it may create significant signaling overhead or potential contention under heavy load. Opportunistic channel selection strategies that require no centralized coordination among the autonomous CRs are surveyed in this paper and also novel results related to our own proposed
\(\gamma \)
-persistent adaptive strategy are provided. Unlike our previous work in Khan et al. (IEEE Trans Mob Comput 12(2):
2013
), we evaluate the performance of the proposed
\(\gamma \)
-persistent strategy in terms of different performance metrics such as: (1) Average throughput of an individual CR; (2) Probability of finding a channel free in first step (given that the channel is free) for an autonomous CR; and (3) Average number of unsuccessful transmissions experienced by a CR. Using these performance metrics, we compare the performance of the proposed strategy with two other distributed strategies and also with a centralized strategy. We show that the proposed strategy allows the CRs to find a free channel with high probability in the first sensing step (given that the channel is free). This reduces the overhead of multiple sensing steps incurred by an autonomous CR. The reduced number of sensing steps required to find a channel free in turn improves throughput per time slot of a CR. Moreover, the proposed strategy reduces the likelihood of unsuccessful transmissions by CRs which in turn improves throughput and also reduces the transmission attempt costs of an autonomous CR.