2020 | OriginalPaper | Buchkapitel
14. Adaptive Multi-modal Tuned Mass Dampers Based on Shape Memory Alloys: Design and Validation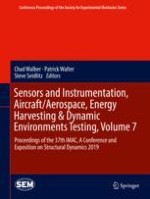 Erstes Kapitel lesen
Autoren: M. Berardengo, G. E. P. Della Porta, S. Manzoni, M. Vanali
Abstract
The use of shape memory alloys (SMA) is really promising in the field of vibration mitigation. Indeed, several works are already available in the literature, describing how to exploit the special features of SMAs in order to design and build dampers and tuned mass dampers (TMD).
Regarding TMDs, the features of SMA materials allow to design adaptive TMDs able to change their eigenfrequencies in order to keep the TMD tuned on the primary system to be damped in case of changes of the dynamic features of the primary system (e.g. changes of the eigenfrequency due to thermal shifts). The possibility to ensure the tuning between the TMD and the primary system allows to achieve an optimal damping action.
The adaptive TMDs based on SMAs described in the literature are usually able to work on a single eigenfrequency of the primary system. Conversely, this paper proposes a new adaptive TMD able to change more than one eigenfrequency at the same time with a given level of independence. This allows to work on at least two eigenfrequencies of the primary system, thus realizing a multi-modal adaptive TMD.
The paper explains that this multi-modal adaptive TMD is based on a special configuration made from a system of masses and SMA wires. Particularly, each mass is connected to the adjacent masses by SMA wires. The possibility to tune more than one eigenfrequency is achieved by heating/cooling the different SMA wires independently. Indeed, this allows to change the geometry of the adaptive TMD and, at the same time, the tensile load into the SMA wires. This double effect is suitable for building multi-modal adaptive TMDs.
The paper first describes the working principle of the adaptive TMD. Then, simulations are presented in order to show the effectiveness of the proposed device.